Call for presentations and demos
The 20th European Networked Knowledge Organization Systems (NKOS) workshop will take place as a virtual workshop, in collaboration with ISKO Italy, on Thursday 23rd June 2022 as part of JCDL 2022 Conference
Important Dates:
NEW submission deadline: Tuesday 12th April 2022
Notification of acceptance: Tuesday 26th April 2022
Workshop: Thursday 23rd June 2022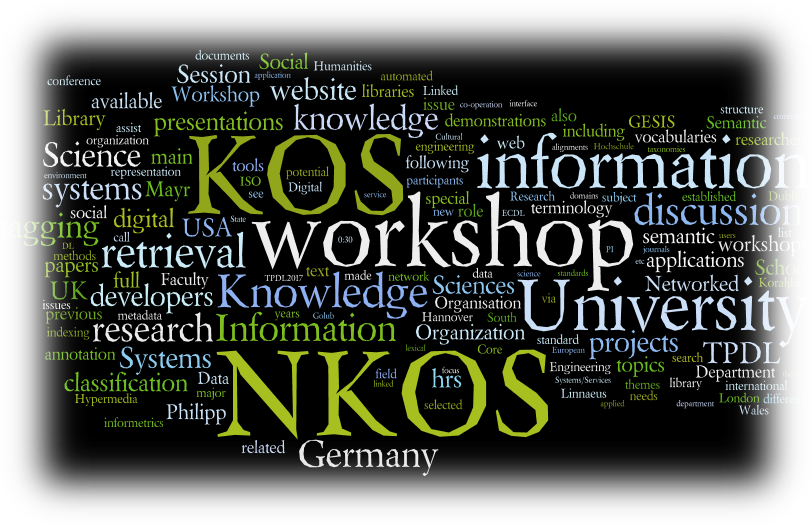 Please email proposals (maximum 1000 words for presentations and 500 words for demos, including aims, methods, main findings, references, relevance to themes of workshop) to Douglas Tudhope (douglas.tudhope@southwales.ac.uk). Proposals will be peer-reviewed by the program committee. At least one presentation author needs to register for the workshop (this is a strict requirement).
After the workshop, copies of presentations will be made available on the workshop website.
We invite submissions for:
a) Presentations (typically 20 minutes plus discussion time, potentially longer if warranted) on work related to the themes of the workshop (see below). An option for a short 5 minute project report presentation is also possible.
b) Demos on work related to the themes of the workshop (see below).
We especially invite descriptions of running projects and ongoing work. Papers that investigate multiple themes directly are especially welcome.
The proposed workshop will have two themes as the main focus, together with topical presentations arising from the workshop call for presentations.
Health-related KOS issues and contributions particularly concerning the current pandemic
Designing for Cultural Hospitality and Indigenous Knowledge in KOS



Further timely presentations/demonstrations will be selected from the following topics in the CfP:

KOS mappings. Mappings (or alignment) between KOS
Users interaction with KOS in retrieval including semantic search
Standards developments.
Evaluation of KOS-based systems - methods and practical experience.
KOS support of natural language processing, esp. information extraction, enrichment
Use of KOS in Artificial Intelligence applications - methods and practical experience.
More information on the workshop can be found in the workshop proposal